SharePoint has, since its inception, been designed to encourage collaboration, to foster the sharing of information. One form this information takes is structured reports, dashboards, and visualizations. SharePoint provides features for managing this type of information, and this functionality has been extended and enhanced in Office 365.
Self-Service Reporting
The idea behind self-service reporting is to make information available to people when they need it. When someone has a question, they can readily find the answer, and if they don't happen to have a question, they won't be buried under a sea of reports. There a couple of reasons this is a sound approach.
First, whereas in the past the lack of information often hampered our decision making, today we are buried under an avalanche of data. There is so much noise amid so little signal that anything we can do to restrict the inflow of irrelevant information is an improvement.
Second, it is impossible to predict, in most cases, the questions people will have and when they will have them. The jobs of knowledge workers are non-routine, and we should not attempt to establish in advance which questions they will have so we can schedule the delivery of their answers. Rather, we should provide tools that people can access when needed that answer the most varied array of questions as possible with as little intervention from IT as we can manage.
Many companies begin their journey with reports being regularly emailed to people's inboxes. This approach fails both to screen out clutter and to provide flexibility. Additionally, it is inefficient to distribute many reports to many inboxes. Although storage space is cheap, it is not free.
SharePoint provides the tools to upgrade from emailing out regularly scheduled reports. With the right partner, experienced in providing SharePoint reporting services, to help plan the information architecture and assist with change management and training, you can establish a SharePoint Report Center where reports will be stored and shared. If care is taken to organize the reports, people will be able to quickly find the one they need. Since users can set alerts when new items are added, each user can decide for themselves which reports warrant a notification when they are updated. This declutters inboxes and provides a central hub for depositing and retrieving reports, but it does not help with the flexibility of the reports.
Luckily, SharePoint provides features that can help with that as well. Instead of a static pdf, data can be stored in Excel, where charts, graphs, and interactive Pivot Tables increase the range of questions the data can address. SharePoint lets you store that workbook in your Report Center and then expose the sheets on a web page so users can sort and filter the data without having to open Excel.
With the help of an experienced partner, you can even take steps to recapture some of the time your staff spends copying and pasting data, which is wasteful and error-prone. Our SharePoint services can set up automatically refreshing data connections for the workbooks stored in the Report Center, or enable emailing to libraries in the Report Center so the source systems can send the files directly with no manual intervention.
For all the helpful SharePoint reporting features, it is limited in its ability to provide advanced data integration and visualization. In these cases, it can still act as a hub, linking to and even exposing third-party reporting tools.
Third-Party Dashboards in SharePoint
An interactive data visualization tool like Tableau allows users to answer a range of questions on their own. It grants the flexibility we desire. To provide a connected experience for your SharePoint users, you can let SharePoint act as a hub for your third-party dashboards. There are three common approaches to this.
The first is the simplest, which is to place links in SharePoint that go to relevant third-party dashboards. This is quick and easy, but takes the user out of their context and sends them to another system. We would prefer for the experience to be seamless.
The second option is to create pages in SharePoint for your interactive visualizations and then embed them in those pages. In this scenario, your users can remain in SharePoint while still benefiting from rich reports and dashboards. This takes some work, since new pages must be created for each dashboard, a navigation structure must be built, and the visualization tool must be configured to work with SharePoint in terms of security. This is especially challenging in SharePoint Online, but it's an issue we've helped clients overcome in the past.
The final option is to use a pre-packaged Report Center that dynamically embeds visualizations in SharePoint and generates search and navigation on the fly. This means much less work for your team. We offer a SharePoint app that does just that, and also includes a dashboard request system.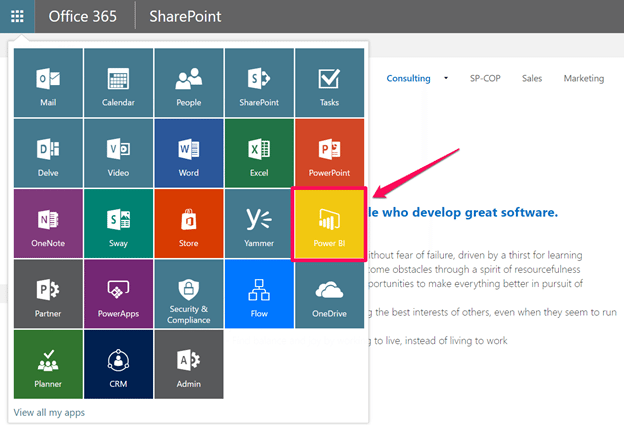 Interactive Visualizations with Microsoft Power BI
If you are considering using a third-party tool to beef up your reporting and analytics in SharePoint, you should certainly consider Power BI. It's made by Microsoft, so it's not third-party, but it's a separate service from SharePoint. A free version is provided with Office 365 (it shows up as a tile in your MyApps Launcher after you sign up). It lacks some of the features to expose on-premises data to the cloud and to automatically refresh large amounts of data. The fully-featured paid version is currently $9.99/user/month.
The benefit of Power BI over tools like Tableau or Spotfire is that it plays well with other Microsoft products. It integrates with Azure AD and respects Office 365 Groups. It uses a data gateway so that on-premises SQL Server data can easily and securely be used. You can already use an Excel workbook stored in SharePoint/OneDrive as a data source. Look for tighter integration with SharePoint in the future, including web parts to drop a Power BI dashboard on a SharePoint site. This would be provided in conjunction with sharing of Power BI dashboards with external parties.
Note that if you are planning a migration or an upgrade , even if you are remaining on-premises, there are ways to take advantage of the functionality of Power BI and other Office 365 services in a hybrid setup.